The day started in mild confusion due primarily to the fact that it was Sunday. I've never been to a wedding on a Sunday, so was immediately out of kilter – and it was only an hour's travel away so the usual mad rush before lengthy journey wasn't propelling the Beloved and I. And we could go dressed and ready, not in need of dressing. I sorted the kitchen after some brunch (egg and beans; breakfast of champions), showered, shaved and got ready. Then watched cricket for an hour.
We were still late – though not so late that we weren't risking gaol and public shame by putting the bins out before their alloted time. Journey was easy, though, we failed to get lost, spotted the necessary car park and checked in to a pleasant room with a four-poster bed. I've never really understood the value of a four-poster bed; it's just something else to walk in to or stub your toe in your sleep but, hey, no complaints.
We'd checked to see if Sybs had checked in, which he had, though wasn't in his room and we'd hoped to offer him a lift to the church if we were in time. We shouldn't have worried – Mr. Cool had arrived by Eurostar, had time for a swim and was casually ambling through reception, just in case we were around to offer a lift, the moment we gathered ourselves and headed back out for the car. Mission accomplished: intention and hope coalesced into successful schemery!
5 minutes later, I was in the car park embracing Paul with great glee; too long since I'd seen him last and happy to see him looking well and in great humour. He was collecting tissues – not because, as I quipped, he expected the wedding to be an emotional affair, but to fend against hay fever. That, in and of itself was a small miracle; it was warm and bright. Muggy even. And, more relevantly, it wasn't raining, frankly against all odds.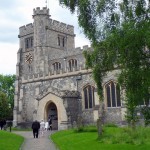 The Church of St Peter and St Paul is a rather splendid building – the sort of church that has me looking for a duck pond (not least, in case of witches, of course) and wanting to peer for interesting old names amongst the gravestones. Sybs, Beloved and I hung out a bit, Beloved saying hello to some gals she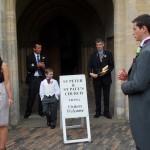 met on the hen night, soon to be joined by Paul and Roselle and smartly decked out kids. Sybs and I were tie-free but seemed to be in the minority. A count would have to be made…and then handsome Jacques turns up wearing a tie and we knew we'd lost. At least until later. Besides, Jacques is with lovely Suzi and energy bunny Jess, so all is well.
All is also at 2pm, so the bride is due and we have to get inside as the last stragglers.
Ensconced inside on the typically amazingly comfortable church pews, we are given the rules of the place and time to glance about. There are some amazing gargoyles of sorts, clambering down the ribs of the roof, faces towards the parishoners. A particularly fearsome one is right above my head but I'm more taken by the mysterious tiny door over the head of the vicar. I'm guessing it may be for accessing some vertically inaccessible items, except that there is a handle on the outside, where it's too high to get through. Paul later suspects it's for hurling little dwarven organists, so that they can clamber through to play some tunes, from back in the old days. Roselle's unconvinced-face suggests otherwise.
And then the bride arrives and Mendelssohn plays her in.
There's a good touch to the place with a selection of toys at the back of the church to keep children happy in the event of wedding fatigue. They're not necessary: I find myself in the heathen contradiction of thanking God for a short service as we are sung out and the happy couple are married and blessed in just over an hour. Result! And we also got to do the classic church singing of finding your way towards the notes a verse at a time until you're just about ready to go as it's over. Always top fun :o)
The rain had still held off and so the gathering outside of the church was a happy occasion without ruined hats and frocks. There is enough grass for the energies of youth to be unleashed as the adults snapped the first pictures of the happy couple and admired, or were distinctly jealous of, the smart Jaguar that was beribboned for escorting Mr and Mrs Clapham back to the the hotel, where wedding breakfast and the shenanigans of the-serious-bit-being-over could commence (also known as 'partaking of beverages').

The hotel in question was Pendley Manor, a grand old house, possibly in need of a lick of paint here and there, but grand nonetheless, with the classic trope of these sorts of houses: lots of peacocks! There seems to be some specific affiliation, or perhaps just enhancing of their presence, as there were various peacock statues inside the hotel, too.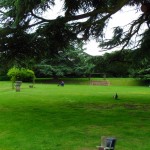 We arrived just before the bride and groom – which led me to believe they'd gone the scenic route to thrash the car a bit as they had left distinctly earlier than us! A red carpet awaited to lead them in to the reception area, once a helpful hotel Frenchman had snogged both bride and groom, so whilst that was going on, I took my chance for a smoke in the pleasant ground…
One odd thing about churches is that, for some bizarre reason, they always leave me dry-mouthed. Maybe it's the singing or empathic nerves. Or fear of God, just in case he really is out there. Anyway, I was happy enough to see a bar where the wedding party was gathering, and happier still to see draught Peroni. Sometimes, bucks fizz doesn't cut it.
With the weather still (still!!) good, photographs were to be taken outside;  the guests were cajoled and coralled by the pretty photographer into distinct groups. I was impressed with the organisation and this also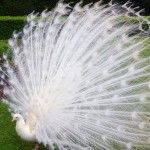 gave me a chance to dash off and snap a picture of the beast I had spotted earlier from the bedroom window, and who was now perched upon an outside table 20 yards away. I don't know whether to call it a Dandecock or a Pealion, but it's an impressive bird and, after moving away initially, aroused its plumage to impress (I may have been scaring it or it fancied me; no idea). I'm still not sure whether it's just white, albino or leucistic but I'd guess the latter.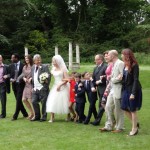 It was nick of time stuff, as we were up next, but I was sure to bore all and sundry with the viewfinder version of the puffed up prince. For some reason, the "college group" photograph required us to link arms and walk forwards, chatting. Actually quiet a nice idea; the borrowed pic is good and I imagine the professional one is even better!
The double stairs leading up to the bar proved the final place for a large group photograph and then it was time for the Wedding Breakfast; always an unusual title and young Jess was disappointed she wasn't getting bacon and eggs. She did, however, get nachos with cheese and ketchup (plus a free bottle of ketchup!) which was quite an inspired choice. For kids, that is: I was happier with the smoked salmon and dots of caviar.
Nicely braised shank of beef for main, which was good, and a texturally odd orange creme brulee for pud' – the coulis was the highlight there. White wine and red flowed copiously and our table of ten encompassed the full college team, plus their kids, which was good (or possibly was a way to keep us all together rather than causing trouble with more respectable folk – though I think all friends at weddings think this way). Actually, wine flowed copiously for some. Well, me. With great irony, I had had two bottles of water placed in front of my place name and Paul two bottles of wine. Well, that was soon fixed; thanks, mate!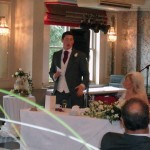 Speeches were great; short where they needed to be and funny where they should be. The Best Man, Steve's son Sam*, managed the extremely tricky, technically-a-no-no, feat of a joke at the bride's expense and did it well (aided by the groom's giving out of apples to his adult kids – a play on the "wicked stepmother" that I'm not sure everyone twigged; I thought it a very fine move and well played).  Sam also managed a pretty moving, non-mawkish appreciation of Steve. The serious bit. Snuck in well and deftly. Well done, that man!
And then, of course, the guests were unleashed.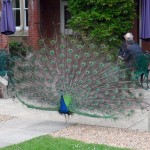 I shouldn't really go on about the weather but it was still holding out, which meant that the latter arrivals for partying could gather outside; since this included a number more children, that was quite the bonus. Except for the bills for dry cleaning out all the grass stains, of course. Peacocks made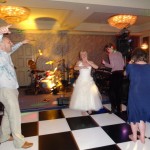 themselves known, though the blonde one was absent, posing between the stairs or proving they could fly (or use ladders) by peering down on us from low rooftops. Really great to see Paula, Heather, Gordon, a prince among men, and Patrick – especially to find out it's his young son that is the erstwhile king of the camera.
At this point, my own pictures dry up because there was conversation and laughing – lots of laughing – and drinking and, latterly, dancing to be had. Although I really look as though I'm calling out some opposing fans. Do I really look like that when I boogie? Shocking. DJ was something of a fibber when it came to promising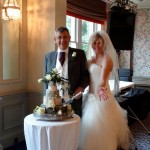 songs, sticking instead to his unclassic classics, but at least he was coerced, by virtue of it being the bride's choice, into playing "I'm Gonna Be (500 Miles)". That might be the song that begat the pic of dancing… And the band were good, too.
There was also a cake. A cheesecake. Made of cheese. Much respect.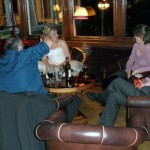 Being a Sunday, many of the partygoers made their way home to prepare for school runs and jobs whilst a few others ticked over to the last minute. Sybs, Al, Steve, Rhun and Alien were the last people standing, seated, with a late drink before bedtime. An earlyish rise – Sybs especially, who had breakfasted and gone before my cracking knees had flexed me out of the four-poster bed – and large breakfast set me up for a tough day at work.
But a top, top day amongst friends had set me up for the week. Thanks to all who partied and congratulations to Alison and Steve (not Dave, as the MC foolishly called him, with great anectdotal value, after getting them to drink a mixture of red and white wine as a metaphor of union. I know. Odd). Especially Al', who didn't stop smiling all day. Her grin muscles must have ached more than my knees by Monday.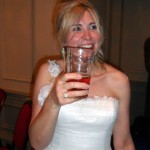 Here's to ya, girl!
(Click on pictures for bigger versions – needs javascript enabled)
*I've been a Best Man and he was despicably calm and collected!!