I love spicy food – spicy and/or hot; but hot, preferably. Pretty much anything with chillies in it is OK with me – chocolate included. Chilli con carne used to be the standby meal in my house (since superceded as preferred regular by chicken tandoori) and it's still something I'll tend to have in the freezer as standby. It's also something that highlights a difference as to what "hot" means. It's a very personal thing.
I can have chilli extremely hot, whereas curries I tend to prefer at the Madras or Jalfrezi (where the inclusion of fresh chillies allows a choice of heat per spoonful!) level. That, of course, depends on what you're used to and what takeaway defines your base level – my base level was defined by the Royal Benghal in Stockton and its Madras was rather hotter than any Vindaloo I've had anywhere since, so it's perhaps not useful as a general reference…
Anyway, whilst Indian food, for a particular generation,  perhaps, defines one's heat limits, it's not the only curry: Chinese curries have a particular flavour and heat that is sometimes just the right thing. Oddly, as generic across the country as a Chinese takeaway curry tastes, it's remarkably difficult to find a reliable recipe. This might be because most of us don't have MSG sitting in the cupboard or because a purchased paste is used as base. I'm not sure. But I found one that needed tweaking for my tastes and it looks and tastes close enough – I think it needs a little more ginger and a certain something else I haven't put my finger on. But I'll get back to it another time…
So, the sauce (adapted from this), which will serve two hungry hectors quite happily:
2 tbsp oil
3 cloves garlic
1 inch ginger, peeled
2 tbsp plain flour
2 tbsp hot curry powder
1/2 tsp salt
1/2 tsp chilli powder
2 cups water
1/2 medium onion
1 tbsp tomato purée
1 apple
(Note: major changes are addition of apple, which is usually used for "chip shop" curry sauce, and removal or paprika – I only had "posh", good smoked paprika and it nearly spoiled the entire thing. Additionally, I suspect making the curry powder/spice mix may be the way forward with this.)
1. Mix curry powder and flour.
2. Heat oil, add chopped ginger, finely chopped garlic and diced onions. Stir until sweated then add peeled, chopped apple pieces. Give another minute or so, stirring continuously.
3. Add flour mix, salt and chilli powder, stir for 30 seconds or so until flour bound in to the pulpy mix (this will aid it binding with the water), then add the water and stir briskly whilst bringing back to the boil.
4. Add tomato purée and then cover on very low heat for 20 minutes.
5. Blend the resultant mix and check seasoning; this is the base sauce that can be frozen or left for a day or so in the fridge.
For a standard curry chop up chicken* (one breast per person) into smallish chunks and drop in the sauce with some large pieces of roughly sliced onion. Gently bring the sauce to the boild and simmer for 15 minutes or until the chicken is poached (pre-fry and brown chicken for a stronger flavour and texture). Add some frozen peas a few minutes before serving, just to defrost and warm through. Fling onto rice and add as much soy sauce as you prefer. Yum!
You could fancy this up with some chopped coriander but I really don't think this sort of food needs garnish or smart presentation!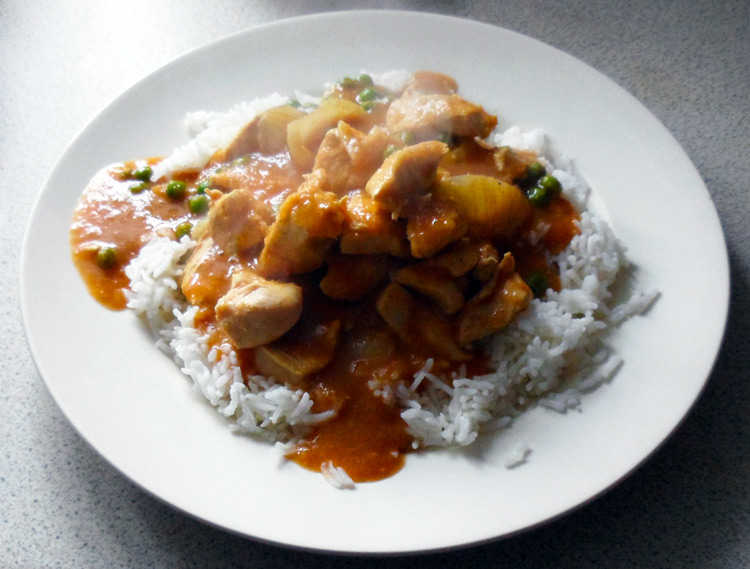 *Or prawns! But don't chop those…
Tags: Chicken, Chilli, Curry, Main Course