Hellblazer Annual: Suicide Bridge by Peter Milligan and Simon Bisley.

Constantine is called on by some old friends whose dying mother wants to finally know what happened to her son, who disappeared decades before, before she can rest. Did he commit suicide or did he just run away from home?

Wow.
I'm a long-time fan of John Constantine since he first sloped out of the shadows in Alan Moore's Swamp Thing and followed Jamie Delano's first steps in the seminal Vertigo comic Hellblazer. There've been some great contributions to the scouser anti-hero, sometime magician and arch trickster since then, notably Delano himself, Garth Ennis, Warren Ellis, Mike Carey and (the underrated run of) Brian Azzarello.
I've been quite enjoying Peter Milligan's run on the title, adding a worthy love interest and counterpart in alchemist and daughter of gangster, Epiphany Greaves, and even giving a story arc to the iconic trench coat. Milligan weaves subplots and ongoing character details deftly, never letting us forget that John is a bastard as well as a hero.
But this annual is a fabulous one-off story. The best Constantine I've read in ages with the outcome never assured as happy; darkness, heroics, supernatural played will without ghastly demons or even full explanations. And uncomfortable. Suicide is a difficult subject matter and this manages to give some sympathy and understanding as well as ghostly horror. Poignant, thoughtful and creepy.
Bisley's art, more usually reserved for garishly colourful front covers, and whilst presumably creating a hole in the market where black ink should be, is absolutely spot on for this.
Glorious.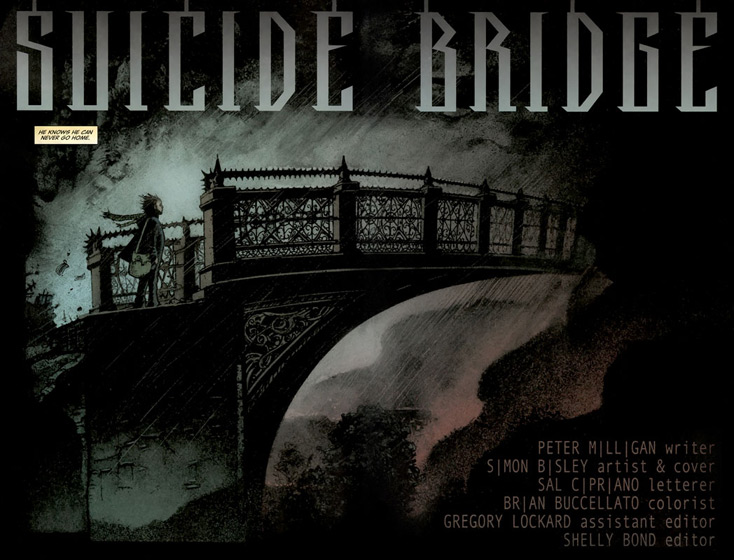 Tags: Constantine, DC, Hellblazer