A couple of weeks ago I went to Loves restaurant for an a la carte lunch in Birmingham with The Beloved and Drs Thom and Faith Oliver. Now a good meal can be made by many things – company is one of them, so I was safe here as you won't get much better than these three cherubs. Atmosphere matters, too and Loves brings that – over a bridge by the canal, the approach is slightly marred by the ramshackle view to the left; and entertained by the "Vibro Suite" to the right.
But the restaurant itself is welcoming – friendly staff and nicely understated, crisp decor with good natural light – you don't feel as though you're expected to be anything other than yourself.
And then there's the food, of course.
Flavours are, obviously, a must – but I admit to being a sucker for great presentation; happy claps are difficult to suppress when a truly marvellous looking plate of food is placed in front of me, before I get anywhere near trying it. And Loves present plates that one is tempted to leave alone. But this is not food to revere; it's food to eat.
My starter was described as "Sashimi tuna, beetroot – raw, cooked, pickled, jelly and sorbet".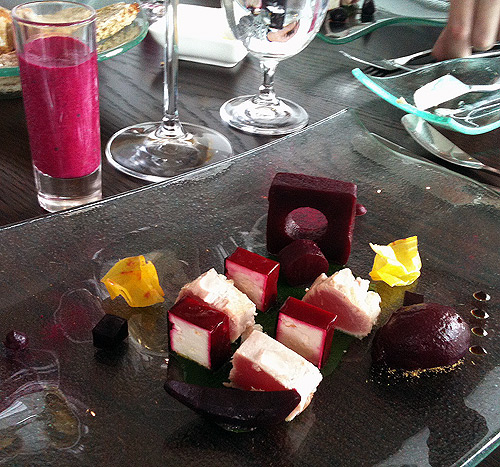 I mean, good God: look at that!!! The number of styles of beetroot are underestimated in the description. As well as raw, cooked, pickled and jelly, there was additionally a pureé, an espuma*, in the glass and with a magical texture, some powder (that can just be seen, looking like dropped blusher on the plate) and what I believe was a Ferran Adria-like spherication. The latter popped on the plate when I prodded it, to my annoyance; had I gone with my hunch it would have popped in my mouth where it belonged!
After that, I opted for the beef: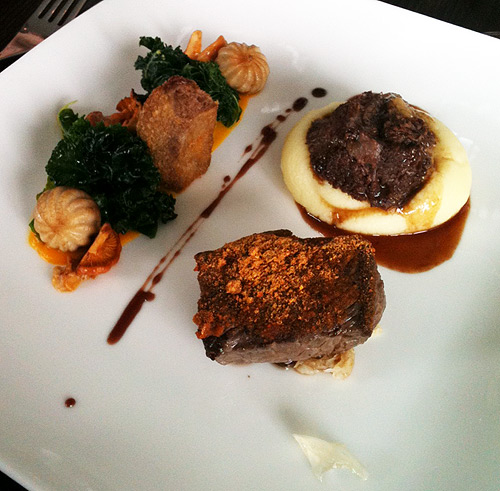 This consisted of beef rump (presumably cooked in a water bath), with braised ox cheek and crispy tongue, carrot purée and smartly carved mushrooms. The braised beef was sat on smoked mashed potato (smoked mashed potato!); the rump on a shallot purée and dusted with carrot powder, which was rather marvellous. At the bottom of the plate was a saki jelly, which whilst good, was the only thing I thought a little incongruous.
We had opened with an amuse of a foamed parsnip soup and before dessert came a pre-dessert; a lemon custard with a light tuille. These were both little freebies, something else I'm a sucker for. The desserts themselves were exceptional but since I have no pictures, I shall leave these as a tease (clue: well worth making sure you have space in your tummy!).
Open less than 2 years, Claire and Steve Love have created a gem here – they already have 3 AA rosettes and surely a Michelin star, should this matter to them, can't be far behind. Having eaten in the last 12 months (ooh, la di da!) at the Nut Tree, Hand and Flowers and the quite fabulous Olive Branch Pub, I don't see Loves as being behind these in quality. Different in style, perhaps, but not quality.
Considering this was the same day that was followed by Batman Live! and fine drinkies into the evening as Beloved and I hooked back up with birthday boy Thom and Faith, it's says something that it left such an impression. Looking forward to going again…
*or "foam", as I've now realised these are the same as
 [Thanks to Thom for the photographs!]
Tags: beetroot, espuma, Main Course, Michelin, modern cuisine, Starter