Sandwiches. Probably the finest invention of the United Kingdom, named after the Earl of Sandwich who purportedly liked meat between bread so that he wouldn't get grease on his card fingers. Nice.
Well, meat sarnies are all well and good but it's really CHEESE that counts. I had an epiphany many years ago: on the way to the pub, for some unaccountable reason, I abruptly realised that a cheese and tomato sandwich was going to be the finest sandwich ever. It was true – although I didn't find this out until the following day, as there was drinking to be done.
The thing is, the notion of the sandwich came intuitively and fully formed; it's quite specific in the requirements even though I had not eaten one previously but the it remains unchanged for me to this day. Ingredients:
2 slices of bread – white for preference. Good quality.
cheddar cheese – a good processed one, not a proper flash one (leave that for the cheese board)
tomato – crucial that it's not a wet, tasteless supermarket one. Riverford's are nice!
margarine or butter as preferred
salt
black pepper
white pepper
mug of tea (critical: see below)
Slice cheese and tomato generously but not too fat. Place on marged bread. Pinch of salt. Good grating of fresh black pepper. Now the important parts: firstly, lots of white pepper. Black pepper is good for an aromatic flavour but white pepper has its own distinct flavour and a much harder spice bite that works really well. Secondly, a steaming hot mug of tea (not sugared). Slurp between bites – the tea brings life to the white pepper, leaving tingling sensations at the corners of the mouth. Absolutely joyous.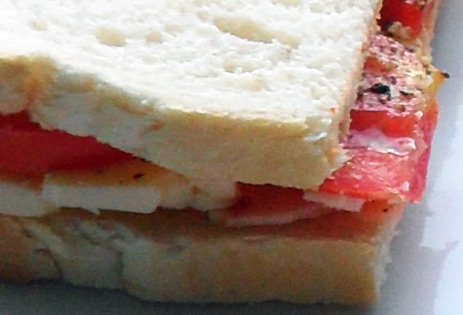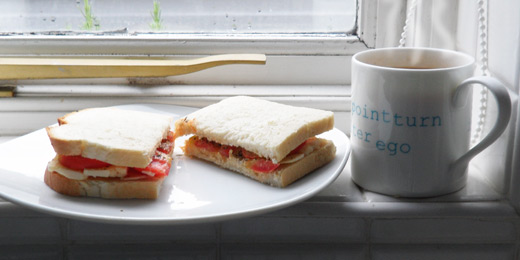 If you don't have any tea, make a cheese and onion sandwich instead. The second best of all sandwiches.