Many moons ago, back in September, 2012, the Beloved and I put our house in Wheatley on the market, deciding to zip away to more countrified climes with better garden space and a change of life; I was about to lose my job, so obviously doubling the stress by searching for somewhere to live at the same time as finding a job was the only rational choice.
Our gut feeling was to go with Wheatley Estates, as David is good and trustworthy but our hefty research has us disagreeing with him on price; we were right about that, getting a good price for the place. However, this was to do with the happenstance of purchasers, a lovely couple who appeared at the right time and were prepared to wait from 2 weeks after marketing the house until just a couple of weeks ago. I mention this to underline as warning that there was very little help from Chancellors. Chancellors are cack.
Of course, they listed the house on the website but it lacked any "full description" and had various details wrong that took three attempts to correct. Further down the line, we were finding out about all relevant details and hold-ups by calling either solicitor or the estate agent of the house we were buying, as he seemed to know a lot more, even about our  purchasers, bizzarely. When questioned on some of this, the Chancellors bloke got a bit shirty, only for the details he denied to be confirmed in e-mails hours later. We had to check with them that they were aware of completion date and had keys for our purchasers; our purchasers (whom, they had told us, were delaying on ending a rental contract) turned up on the morning we moved, since they had been told we had long-since moved out and were keen to move in, rent having been terminated two months before. Grrr.
But I'm getting ahead of myself.
First thing was to find a house. Our initial are for looking was the Peak District. We checked Bradwell, Castleton, Hathersage, Bakewell, Youlgreave and various other places. Unfortunately, not only was it expensive, but everything we found failed a key criterion – especially the must-not-be-near-a-main-road one. Or there would be 6 bedrooms for up-and-coming families but nadgers all garden. Or, at a particular house in Grindleford, my knees were issuing feared warnings at the violent slope of the garden and hills about.
Lovely surroundings but, after some exhaustive searching, both virtual and real, it was time to look elsewhere.
Also, by this time, it looked like I was going to have more chance of getting a job in the Oxfordshire are than Peak District. So we turned to the Cotswolds, as a southern, middle-class, mini version of the Peaks. Stow-on-the-Wold, Moreton-in-Marsh, Long Hanborough, Kingham, Churhcill, Chadlington, Charlbury and more. And after yet more searches, visits, rationalising, compromising, cursing and hoping, we found the place. Maybe not the perfect place, but all the efforts to then, and any amount of Kirstie and Phil, had taught us that "perfect" is ephemera: grasping at mirages.
And so we made an offer and, long story short, it was finally accepted and the solicitor travails began.
Now I'm not a solicitor, and I'm happy for them that they all take two weeks off over the Christmas period, but I remain astonished how long it can take to do expensive searches. Especially when some of the detail was taking me 5 or 6 minutes to Google on local government websites. Still, where the LAW is involved, I guess they have to use special phrases for searches that inhibit clarity – "can the search engine, herafter known as 'Google', indicate the legal instance when the land effected change from agricultural to residential with regard to its status " instead of "when was it built?".
Meanwhile, I'd found a job actually in the Cotswolds, as a Supply Systems Analyst for Daylesford Organic (don't ask; I'm not sure what it means, and I'm doing it – but it's hard, fun, educational and a big change from butterflies!). And this meant I was living away from the Beloved for most of the week. Sloth of movement on house was starting to hurt and fatigue.
But other than time taken, which I assume is normal, Withy King were fine;  there were some complicated details about covenants that slowed things up. And the vendors, initially suggesting they were happy to move out and rent, were actually part of a small chain that was the main factor holding things up. And time passed and Easter approached  and I was tired of living in Chipping Norton and cycling 12 miles a day and the proposed exchange date looked unlikely.
Until it wasn't.
Sudddenly, it was all hands to the pumps and engines on full. Exchange happened against all odds on the Monday. Finances were juggled, went missing for a few hours, then turned up with the solicitor. The Beloved was a rock, sorting all the details out whilst I was miles away at work – potential house movers got tested and chosen;  BT was forewarned; Sky were booked in; banks were told.
One week later, the good folk at House 2 Home Removals were battling through the bitter cold to box up our lives and transfer us to Cotswoldia. Beloved and I, slowly, having back-spasmed, followed them around rooms doing the cleaning as our purchasers waited to get inside, checking on Cat, as she was locked away to ease her nerves. And at 2pm, we were off.  Completion on purchase still hadn't happened (sale had) but I had been assured it should in the next hour so, and that was an hour ago, so we handed over keys and said goodbye to Wheatley: you've been splendid and good to us, and I shall miss you! [I almost got a bit teary when saying goodbye to the butcher on the Saturday before, never mind the Railway]
Then stress. No completion. We are getting closer to Moreton-in-the-Marsh but no keys would be available without completion. On the upside, Cat was being very calm in the car with our last few, key belongings (laptop, PC and, most importantly, kettle, mugs, milk, teabags and biscuits). Two phones on my lap, ringing estate agents (Harrison and Hardie; the good one) and solicitor.
No go. Question: if the estate agent makes a payment at noon and it takes three hours to be received, what exactly is the value of the CHAPS payment charge? Especially when purchase and sale were meant to be simultaneous.
And then both phones went off about half a mile from the keys. It was done. Hurrah! Now just get unpacked and see if we still like the place we haven't been to for three months…
By 7pm, we were unloaded. Miraculously, phone worked and router was connecting to broadband without doing anything other than plugging it in. Previous occupants had left us no bloody oil, so that was high on the agenda to get sorted. But, we had food I'd prepared earlier, Cat was acclimatising, TV had a good Freeview signal and there was wine open.
Probably about time, we thought, to tell people we've moved…(and sorry for keeping you all ill-informed; there really has been little time to pause and relax)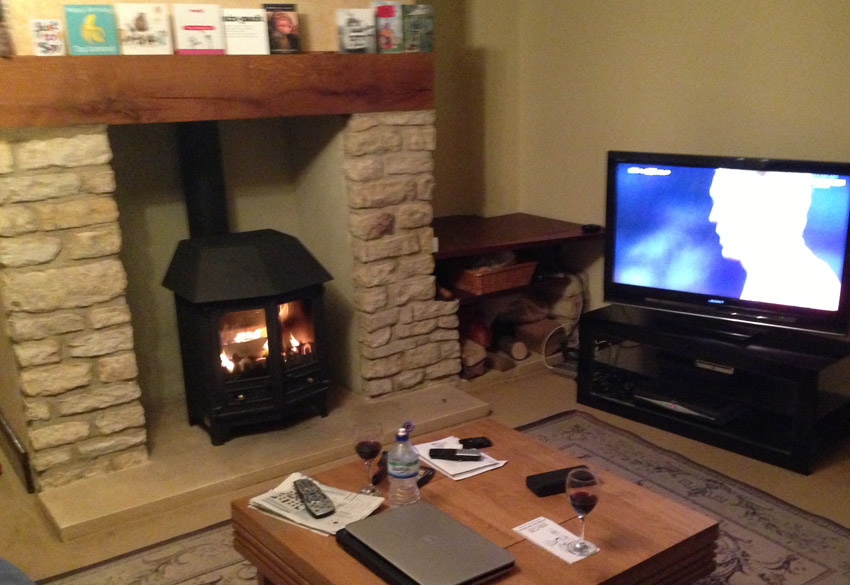 Settling in begins. Ooo, wood-burning stove! We're going to need logs. And I'm going to have to remember how to make fire.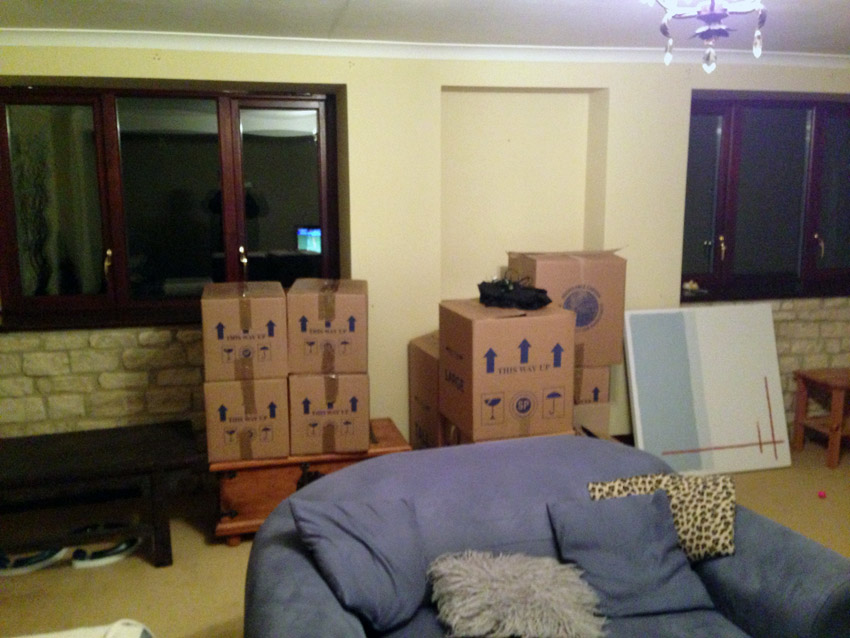 Still lots to do, if I turn round, of course…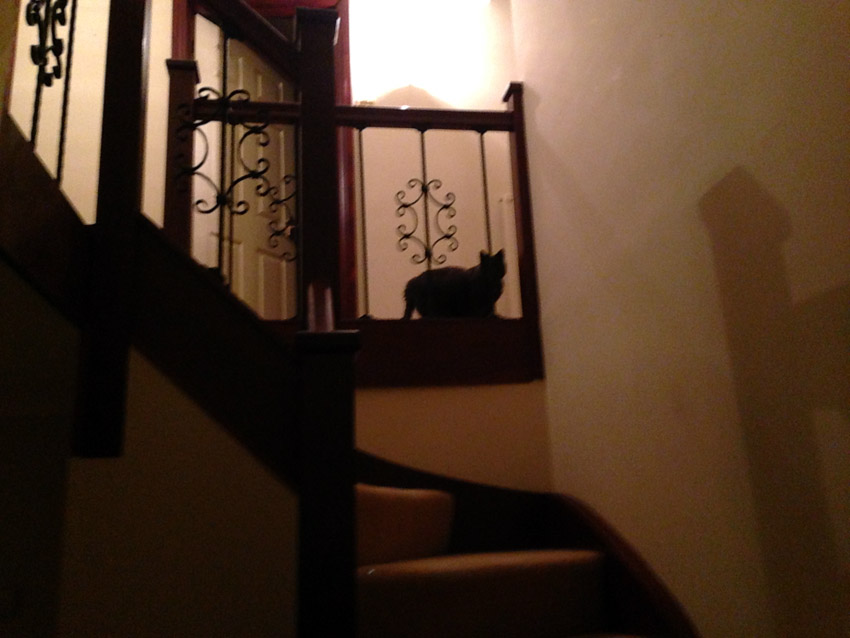 But Cat is starting to feel more at home!
And finally, because it's quite nearby:
Adlestrop
Yes, I remember Adlestrop —
The name, because one afternoon
Of heat the express-train drew up there
Unwontedly. It was late June.
The steam hissed. Someone cleared his throat.
No one left and no one came
On the bare platform. What I saw
Was Adlestrop — only the name
And willows, willow-herb, and grass,
And meadowsweet, and haycocks dry,
No whit less still and lonely fair
Than the high cloudlets in the sky.
And for that minute a blackbird sang
Close by, and round him, mistier,
Farther and farther, all the birds
Of Oxfordshire and Gloucestershire.
-Edward Thomas
The tragedy of the lovely evocation of times past and nostalgic longing is that this happened in June 1914. Thomas was dead 3 years later.
Which was an unnecessarily bleak note to end this on. So I'll just add: the pub is nice and serves Carlsberg Export on draught!
Tags: beloved, Estate Agents, House, Moving